Diagnosing

preclinical MMVD
How is preclinical MMVD diagnosed?
To assess whether a dog has preclinical MMVD, a thorough history and physical examination should be performed at every visit. Suspicion for MMVD is raised when the veterinarian auscults a loud murmur.
Upon detection of a murmur, thoracic radiographs and echocardiography can help in diagnosing preclinical MMVD.1
CARDIAC AND PULMONARY AUSCULTATION
Auscultation of the heart is used to detect abnormalities such as:
Cardiac arrhythmias—irregular heartbeat, tachycardia, or bradycardia
Heart murmurs—consider intensity
Extra heart sounds—gallops, clicks
Areas of auscultation in the heart should include the mitral, pulmonic, and aortic valves on the left thoracic wall and the tricuspid valves on the right thorax.
A heart murmur often is the first detectable sign of heart disease. Murmurs are usually graded out of 6 to describe how loud the sound is1:
1–2/6 the murmur is the softest noise
3–4/6 the murmur is about
as loud as the 'dub'
5–6/6 the murmur is about
as loud or louder than the 'lub'
Grade 6/6 you can sometimes hear without a stethoscope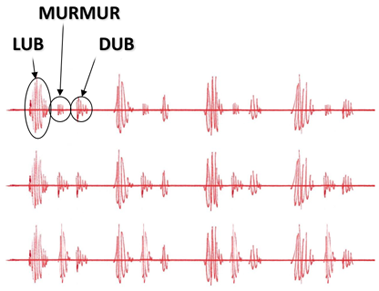 If a heart murmur is detected, thoracic radiographs (including calculation of a Vertebral Heart Score) should be done to determine if the dog's heart is enlarged.
Auscultation of the lungs is used to detect the presence of normal bronchovesicular sounds or abnormal lung sounds, such as crackles
and wheezes.
Reference: 1. Prosek R. Abnormal heart sounds and heart murmurs. In: Ettinger SJ, Feldman EC, eds. Textbook of Veterinary Internal Medicine. 7th ed. St. Louis, MO: Saunders Elsevier; 2010:259–263.
Thoracic radiographs provide information about heart size, status of pulmonary vasculature, and changes in the lungs.1 Evaluating the size and shape of the heart silhouette on radiographs is a key step in diagnosing and assessing severity of cardiac disease in dogs.2
Radiographic results can be used in conjunction with other diagnostic tools, such as auscultation and echocardiogram (ECHO), to confirm if a dog is developing heart disease and if so, if the dog is at the preclinical stage
(eg, B1 or B2) or has progressed into heart failure.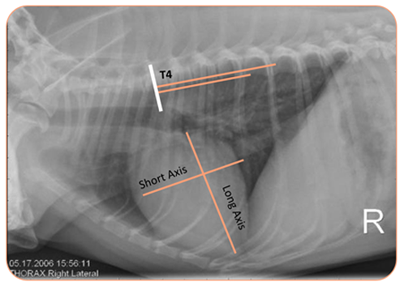 References: 1. Beardow AW. Veterinary cardiology diagnostics: assessing cardiac health in the 21st century. DX Consult. 2008;2(1):12–15. 2. Lamb CR, Wikeley H, Boswood A, Pfeiffer DU. Use of breed-specific ranges for the vertebral heart scale as an aid to the radiographic diagnosis of cardiac disease in dogs. Vet Rec. 2001;148(23):707–711.
Echocardiography is useful in determining a definitive diagnosis of underlying structural disease as it provides a quantitative evaluation of heart chamber size, wall thickness, and the dynamic changes that occur during the cardiac cycle.1
According to guidelines from The American College of Veterinary Internal Medicine (ACVIM), an echocardiogram is recommended to answer specific questions regarding either cardiac chamber enlargement or the cause of the murmur if those questions are not adequately answered by thoracic radiography.2
An echocardiogram is an essential diagnostic tool for:
Confirming the stage
of heart disease
Identifying structural
or functional complications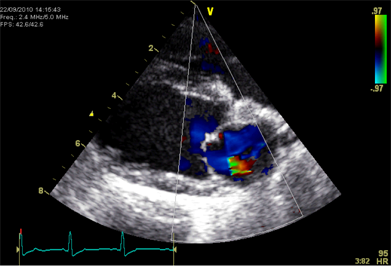 References: 1. Beardow AW. Veterinary cardiology diagnostics: assessing cardiac health in the 21st century. DX Consult. 2008;2(1):12–15. 2. Atkins C, Bonagura J, Ettinger S, et al. Guidelines for the diagnosis and treatment of canine chronic valvular heart disease. J Vet Intern Med. 2009;23(6):1142–1150.