Classification

of canine heart disease
It is estimated that 10% of all dogs seen in primary care veterinary practices have heart disease.1 In older dogs, the prevalence of heart disease reaches more than 60%.2
The 2 principal causes of acquired heart disease are:
Myxomatous mitral valve disease (MMVD): affects the heart valves. MMVD accounts for about 75% of canine heart disease cases in the US1,3
Dilated cardiomyopathy4 (DCM): directly affects the heart muscle
A LOOK AT MMVD
MMVD is a slowly progressing condition that eventually leads to congestive heart failure (CHF) in dogs. It thickens the cusps of the mitral valve on the left side of the heart, which is supposed to ensure that blood flows in the proper direction. Thickened valves fail to form a complete seal, which allows blood to leak back into the atrium during systole.
MMVD AFFECTS:3
Not all dogs are equally vulnerable. MMVD tends to affect older dogs and small- to medium-sized breeds, such as Cavalier King Charles spaniels, chihuahuas, miniature poodles, miniature pinschers, fox terriers, Boston terriers, and miniature schnauzers.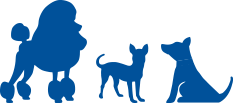 Symptoms of CHF can include reduced tolerance for exercise, coughing, restlessness at night, and difficulty breathing. The detection of a heart murmur during routine checkups usually precedes a diagnosis of MMVD.
In the early stages, MMVD is most likely to be subclinical. This phase can last for months or years. However, as the heart deteriorates and cardiac output decreases over time, MMVD can lead to CHF. If not diagnosed and treated properly, CHF can cause a rapid deterioration in health that ultimately results in death.
STAGING HEART DISEASE IN DOGS1
stage a
Dogs at high risk for
heart disease (no disease present at this stage)
stage b
A murmur
(an abnormal heart sound
due to abnormal blood flow)
is heard but there are no visible signs of heart
failure
stage c
Evidence of heart
failure is visible and
treatment is necessary
stage d
Heart failure is getting
hard to manage and is
not responding to
standard treatment
stage b1
The heart does not
appear enlarged or
changed on x-ray
stage b2
The heart does
appear enlarged or
changed on x-ray
The American College of Veterinary Internal Medicine recognises 4 stages of heart disease and failure in dogs
The EPIC Study looked at dogs in stage B2—asymptomatic dogs with a heart murmur as well as cardiac enlargement